Cupid - Emma Halpin
Emma Halpin's upcoming debut album, 'Cool Cupid', is set to release worldwide on the 21st of August this year with 9 new original tracks.
This live recording of 'Cupid', the 3rd track from the upcoming 'Cool Cupid' album by Emma Halpin, was recorded in one full take at home using the Black Ops Extinct Audio microphone, recording acoustic guitar into one side and the vocals into the other.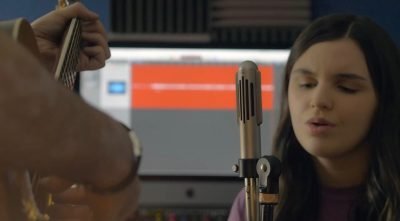 Emma Halpin is a 16 year-old unsigned artist from Manchester, England. Writing, recording and releasing songs ever since she was just 11 years old, Emma has become a self proclaimed 'Bedroom Bop Producer'. Emma released her first single called 'Smile' back in 2015 when she was 11 years old and has continued to write and record music ever since. In 2018, Emma released her debut EP ('The Homebase EP') featuring 6 original songs all produced from home. She is currently studying songwriting at the British and Irish Institute of Modern Music (BIMM) in Manchester.
Find out more about Emma at emmahalpin.com and Youtube, Instagram, Spotify.
'Cupid' written by Emma Halpin / Vocals – Emma Halpin / Guitar – Dominic Halpin / Recorded & engineered by Dominic Halpin
How We Made It – Dominic Halpin explains how  & why he recorded Cupid using a single Black Ops microphone.
"My daughter wrote this lovely song and wanted an acoustic recording with just guitar and voice. We played through the song and it sounded complete that way, so we wanted to just capture it as it was. The Black Ops mic was the obvious choice, being able to capture both sounds into the one mic.
With Emma's recording I ran the mic through a Universal Audio 6176 with very little compression, straight into my Apogee Quartet and into Logic Pro. We tested the distance between my Martin guitar and Emma's voice and found the distance was very forgiving. I think from memory I moved the guitar closer and positioned it where the neck joins the guitar.
The track just mixed itself perfectly! In post all I added was a little reverb and that was it – Emma was so surprised at how good it sounded when I played it back to her on headphones." Dominic Halpin.
Watch the video below to see Emma Halpin discuss the making of Cupid.
September 8, 2020