The BM9 from Extinct Audio is a general purpose bi-directional ribbon microphone, with a symmetric figure-8 pickup pattern. It is designed to be equally at home in front of a guitar amp, above an orchestra, and everywhere in between. It has a deep, rich bottom end particularly when used close to the source, and has a large bass proximity effect. At the top, the response is smooth and detailed, as one expect to would find in a high end vintage ribbon microphone.
Aesthetically, the BM9 is inspired by classic Danish microphones from the 1950s and 60s, but contains numerous technical innovations which bring its performance, noise floor and output level 'bang' up to date.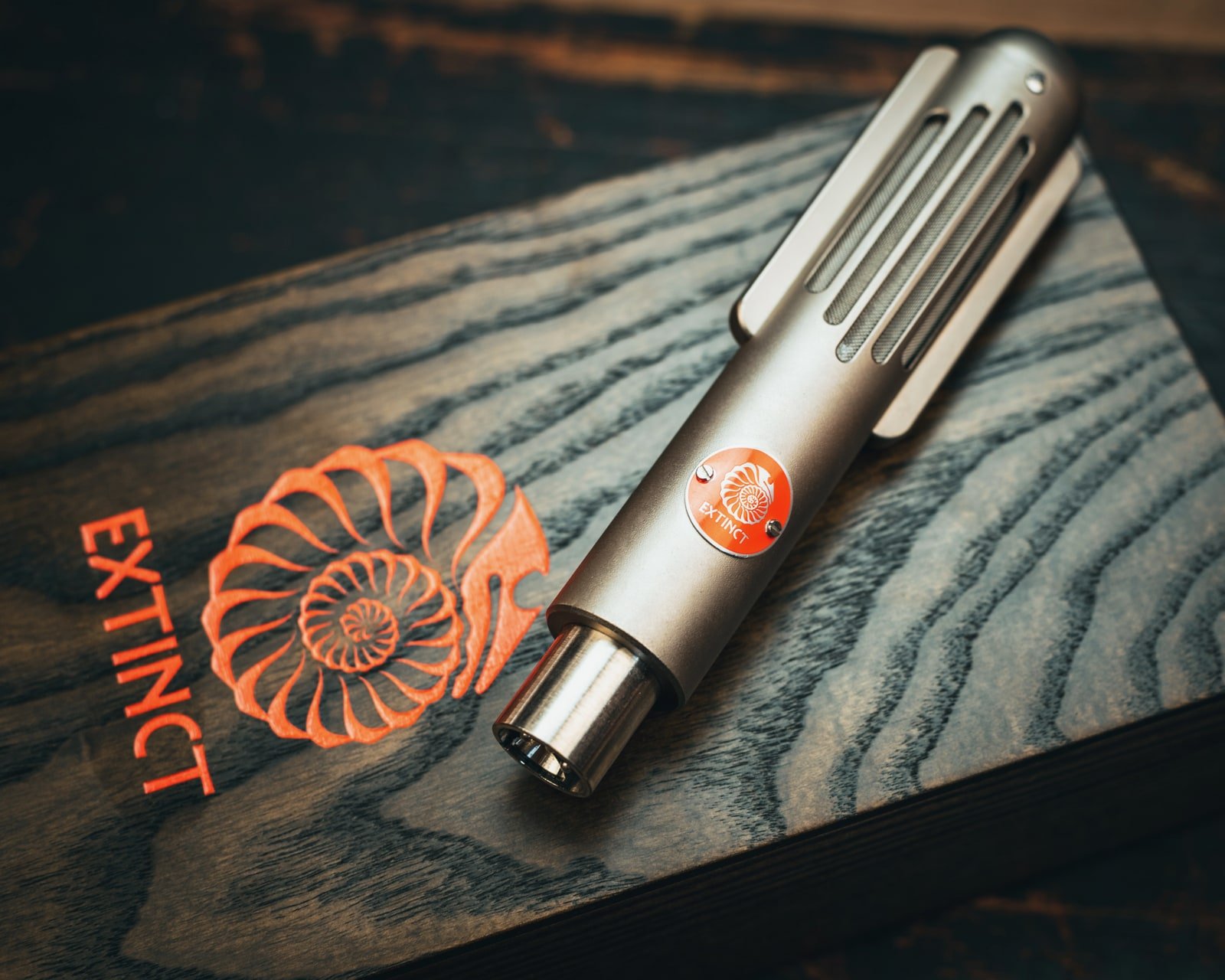 Deep-field magnets
The Viking utilises a wide, long ribbon in a strong magnetic field to give a strong output with low noise floor. The deep-field magnets ensure linear performance as the ribbon moves from front to rear. Vertical grill slots of different size reduce diffraction and improve rejection from the sides of the microphone. All this adds up to a deep, rich tone with an amazing degree of clarity from a ribbon microphone.
The Sonic Temple
Every Extinct Audio ribbon is sonically tempered for durability and extended life. This involves subjecting the microphone to audio frequency vibrations, which harden and strengthen the aluminium ribbon. The custom-wound permalloy core transformers are designed and made at our workshop to ensure high efficiency and low noise over the full sonic range.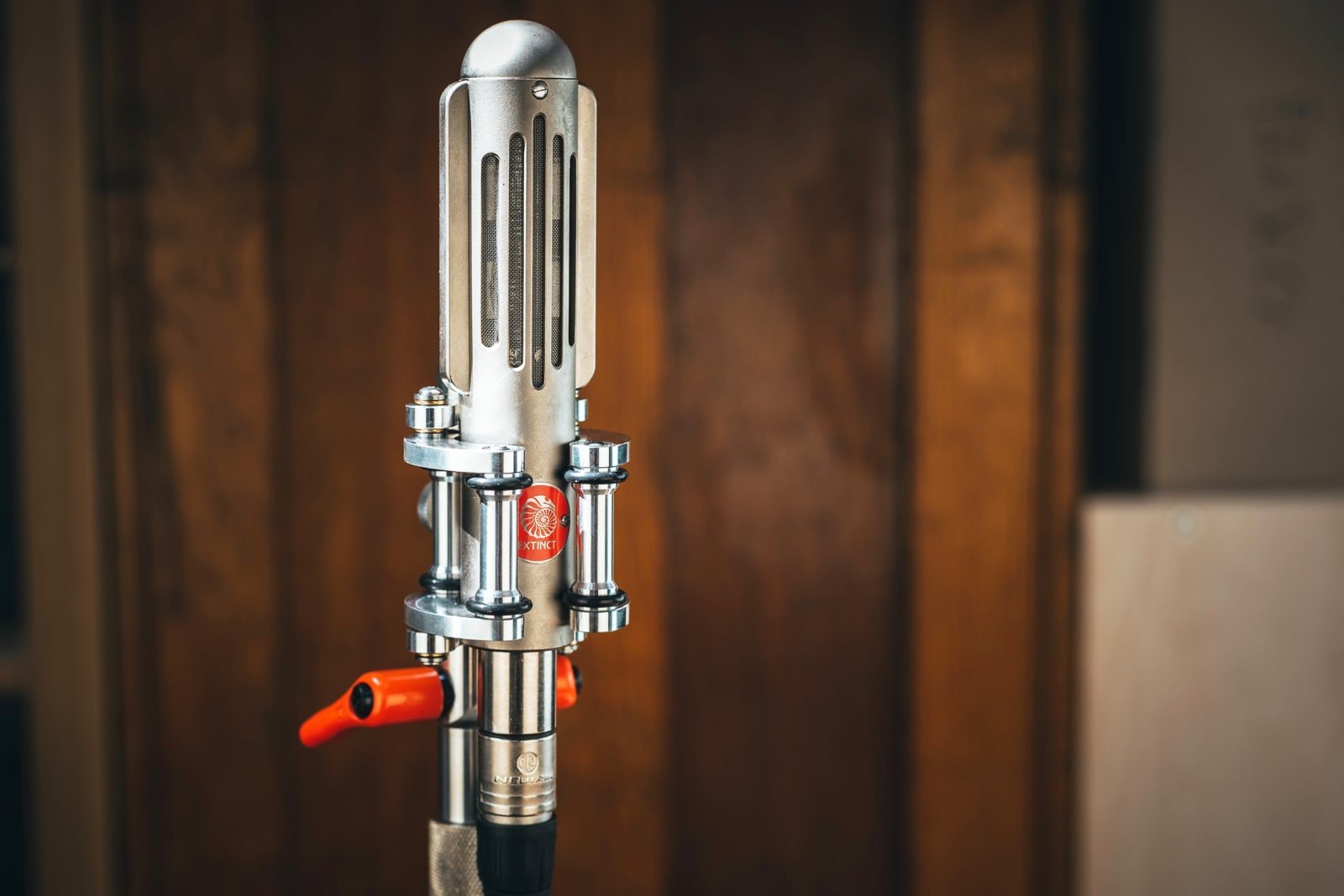 Built in Yorkshire
All the mechanical parts are machined in the UK, and the microphones are assembled here in our workshop in York. Each ribbon is hand-fitted and tuned by Stewart, who has over a decade of experience repairing and building thousands of ribbon microphones.
Technical specs
Output impedance = <300 ohms at 1KHz
Directional Pattern: True figure-8. View BM9 polar pattern chart
Transducer Element: 1.8 micrometer aluminum ribbon
Frequency range*: <30 Hz – 15 kHz @ ±3dB. (excludes proximity effect)
Maximum SPL: 135dB @ 20 Hz
Sensitivity: 2.23 mV/Pa, -53 dBv/Pa
Self noise (thermal): -130 dBV at 20ºC (20 kHz bandwidth)
Signal to noise (1kHz at 1 Pa): 81 dB.
Proximity effect: Strong
Electronics: Passive. No power required
Output configuration: Transformer balanced
Output Connector: XLR3, Pin 2= +ve, Pin 3 = -ve, Pin 1 = Ground
Weight: 355g (microphone only)
Custom options
Other impedances available on request at no extra charge. Because we make the transformers and assemble the microphones in-house, it is a simple task for us to modify the microphones to your requirements.
Warranty
Ribbons are warrantied for one year – with careful use they should last much longer. All other parts come with a lifetime warranty to the original owner.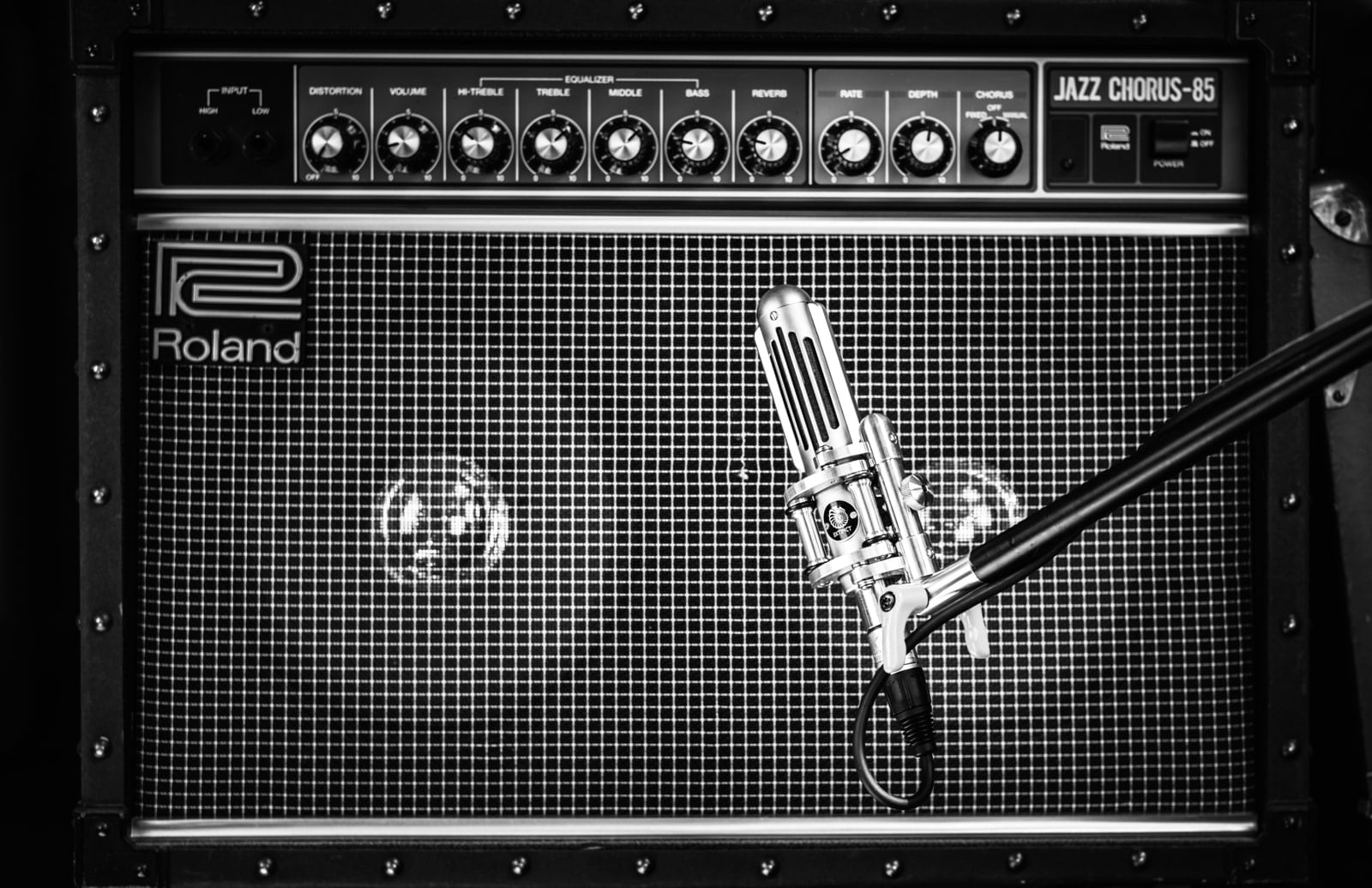 Built for the future
Good quality studio microphones have very long lives and may be in use for several decades if cared for and serviced occasionally. We have seen ribbon microphones come in for service that were made in 1927, and sincerely hope that our microphones will outlive their owners!
We use recyclable or sustainable materials where possible. 99% of the microphone is made of metals – brass, steel and aluminium, all of which can be recycled. Plastic parts make up just 1% of the microphone's weight. The microphone boxes are made from sustainable ash wood..
We re-use cardboard boxes and other packing materials where possible for shipping the microphones.
In good company...
Extinct Audio users include…. John Williams, Dom Monks, Nick Cave, Lianne La Havas, Laura Marling, James Ford, Simian Mobile Disco;  James Knight, Knight Time Studios;  Justin Lockey (Editors/Minor Victories/Mastersystem); Nigel Pepper, engineer, Snow Patrol, UK; Foals,  Jason Lytle (Grandaddy); James Newman; Ray Lamontagne; Nils Frahm, Germany; Matthias Hahn, Berlin; Ethan Johns, J.J. Hastry, ICP Studios, Brussels; Konk Studios, London; Real World Studios, Bath; Neil Innes, ATA records, Leeds;  George Apsion, Kore Studios, London; Richard Thompson,  Johannes Buff, End Note Studios, France; Marcus Mumford, Douglas September, Canada; REP Music, Cambridge; Barkley McKay, Valley Wood Studio, Leeds; 80 Hertz Studios, Salford, UK; Iwan Jenkins, The Riot Point, Canada; Ali Chant, Playpen / Toybox, Bristol; Martin Mitchell, Instant Music, UK;  Dave Tilley, Bogue Sound Studios, NC; Jeff Ardron, St Austral Sound, UK; Sal Richichi, Las Vegas; Nicolas Masset, Belgium;  Don Gunn, The Office, USA; Maxwell Hallett, London;  Scott Evans, Antisleep Studios;  Gwyn Ap Harri, Doncaster; Emma Halpin, Ben Barker, The Haggis Horns, Leeds, UK;  Andrew Wilson, Red Six / Wounded Buffalo; Richard Horner, Black Snowflake Sound, Sapporo, Japan; Tim Rutten, Maastricht, Netherlands, Joe Clayton, No Studio, Manchester.; Misha Bittleston; Benjamin Lee, Eugene, OR, USA;  Nils Grondahl, Denmark; Louis San Antonio; Shawn Murphy, Los Angeles; Air Studios, UK; Dale Smith, Queensland, Australia; Jules Burns; Brendan Aanes; Daniel Inzani, UK; Douglas Doherty, DACS Audio; Pete Ord, Sunbeams Music Centre, Cumbria; Paul Kappa, Amazing Kappa Band; Dave Mallen, Innovation Station Music, Virginia; Robert Charles Wilks, Squarehead Studios, Kent, UK; Jérôme Cousin, L'Atelier du Microphone, Saint Thual, France; Jonny Hooker, Young Thugs Studios, York; Russell Pay, London; Joe Montague, UK; Marco Noble, Noble Sound Studios, Linsengericht, Germany; David Stych, UK; Hessischer Rundfunk, Germany. Rob van den Berg, Sonokinetic, Netherlands; JB Pilon at Buffalo Recording Studio, Wakefield.