"Valkyr captures an intimate and detailed stereo image conveying the exact positioning of the performers…. The balance across the frequency range is excellent and requires absolutely nothing in the way of post-production EQ…. For accurate 'real stereo' recording, the Valkyr provides an extremely cost effective, and unobtrusive solution…. The audio arriving at the front of the mics is phase coherent and the rich acoustics are also accurately reproduced, capturing a clear impression of the building." Martin Mitchell's Microphone Blog
Stereo Imagination
Valkyr is the stereo version of our popular BM9 ribbon microphone, and is a perfect one-point solution for recording ensemble, orchestral or choral performances. It also makes an excellent live room or drum overhead microphone, and is ideal for use in larger spaces.
Tower of Sound
'Valkyr' has two finely matched ribbon transducers orientated at 90º to one another. The figure-8 polar patterns are incredibly pure, and provide excellent rejection at the nulls. This allows the engineer to set up Blumlein pair or Mid-Side arrangements quickly and accurately. It is easier to find the sweet spot in the room when only moving one microphone around.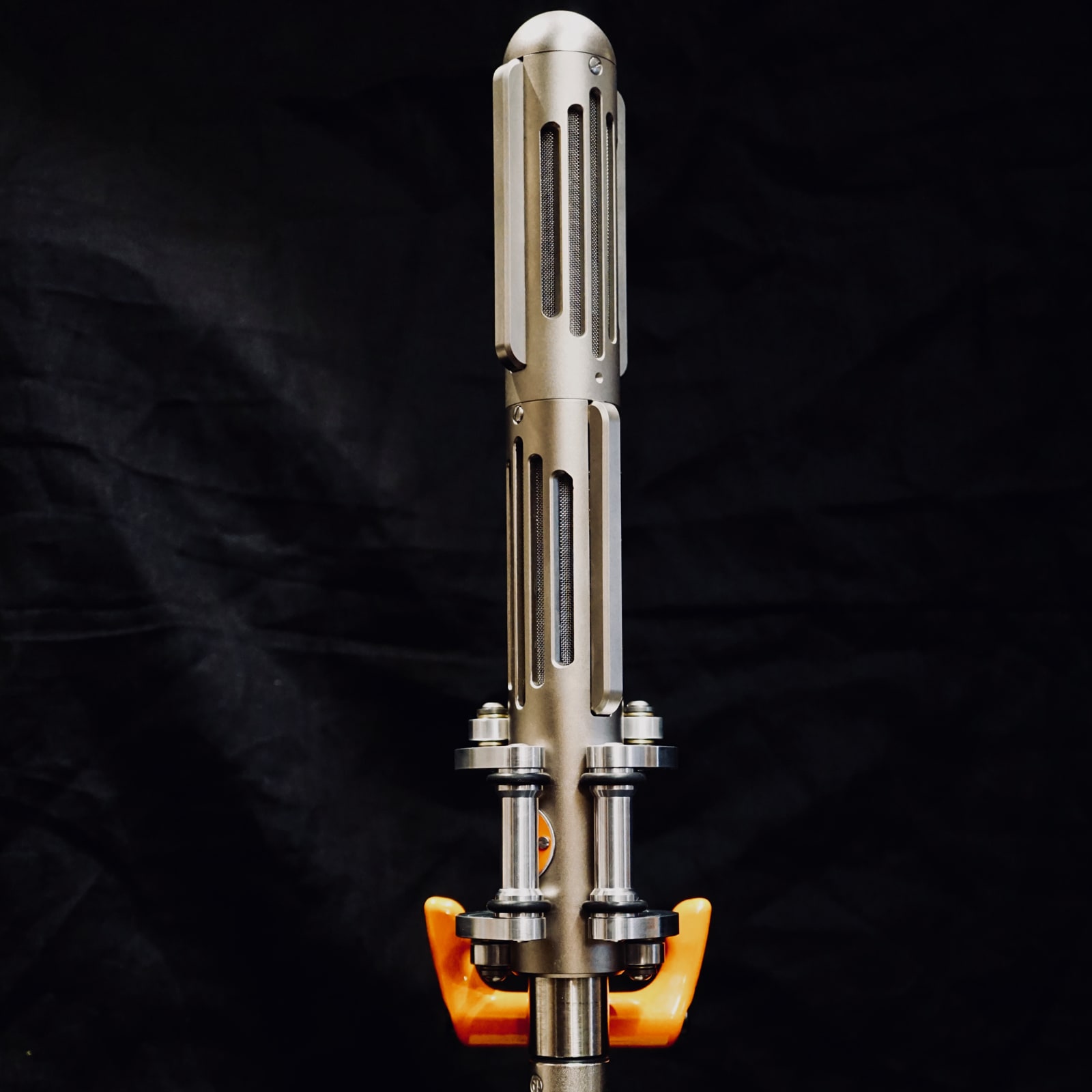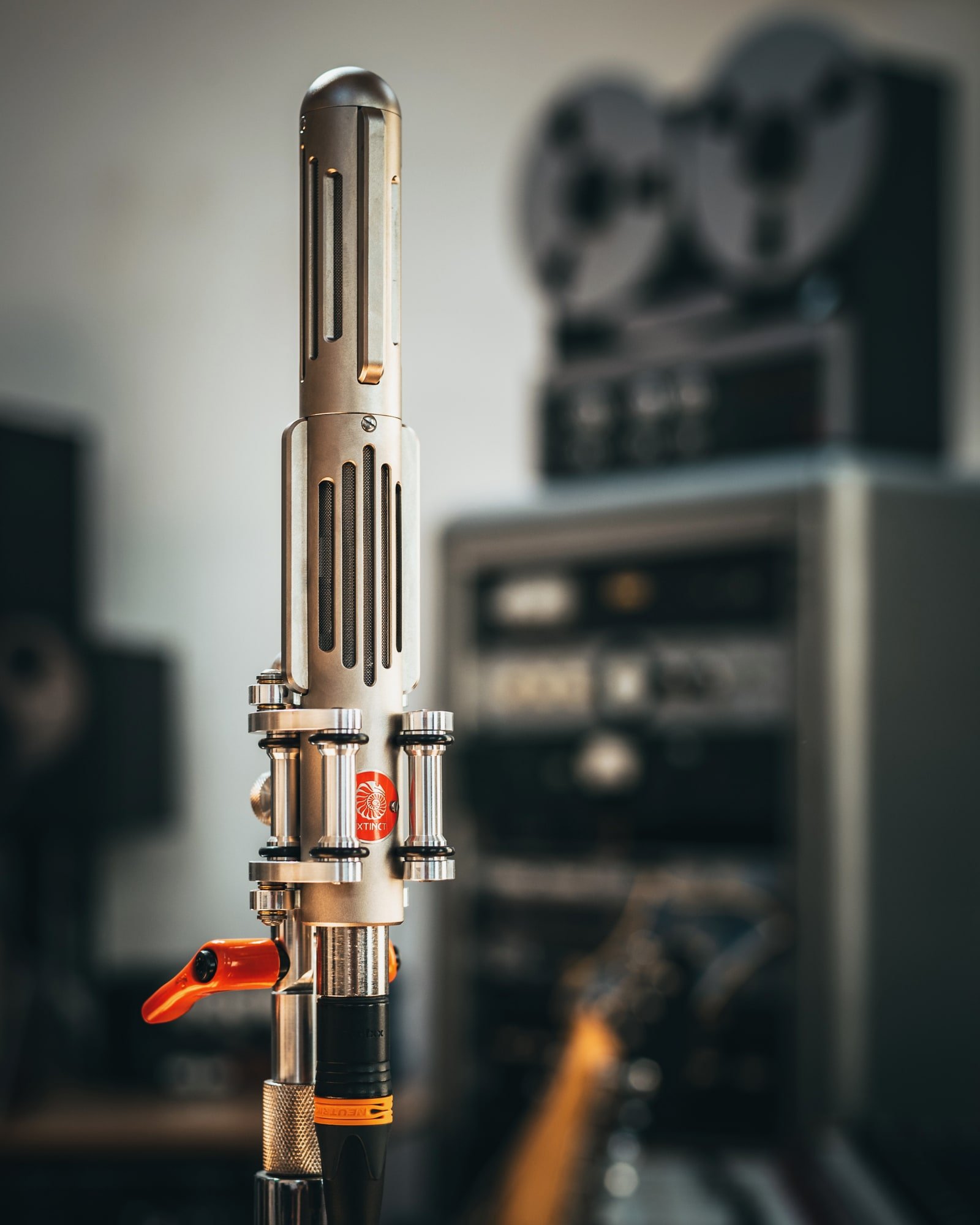 Set Phases to Stun!
Valkyr's extended frequency response and strong output level give that classic 'ribbon mic tone' in a beautifully engineered, modern microphone. The audio arriving at the microphones is phase coherent which means that the stereo image produced has excellent depth and positional accuracy. And the wide acceptance angle of the microphones easily takes in the whole band, orchestra or choir.
"I quickly grabbed the Valkyr, which had been doing duty as a room mic, and repurposed it as a vocal mic, placed on an imaginary line between the guitar and bass amps. The lower element, facing towards the singer, gave me a remarkably spill-free vocal sound, while the upper element was still usable as a room mic, with virtually no vocal pickup." Sound On Sound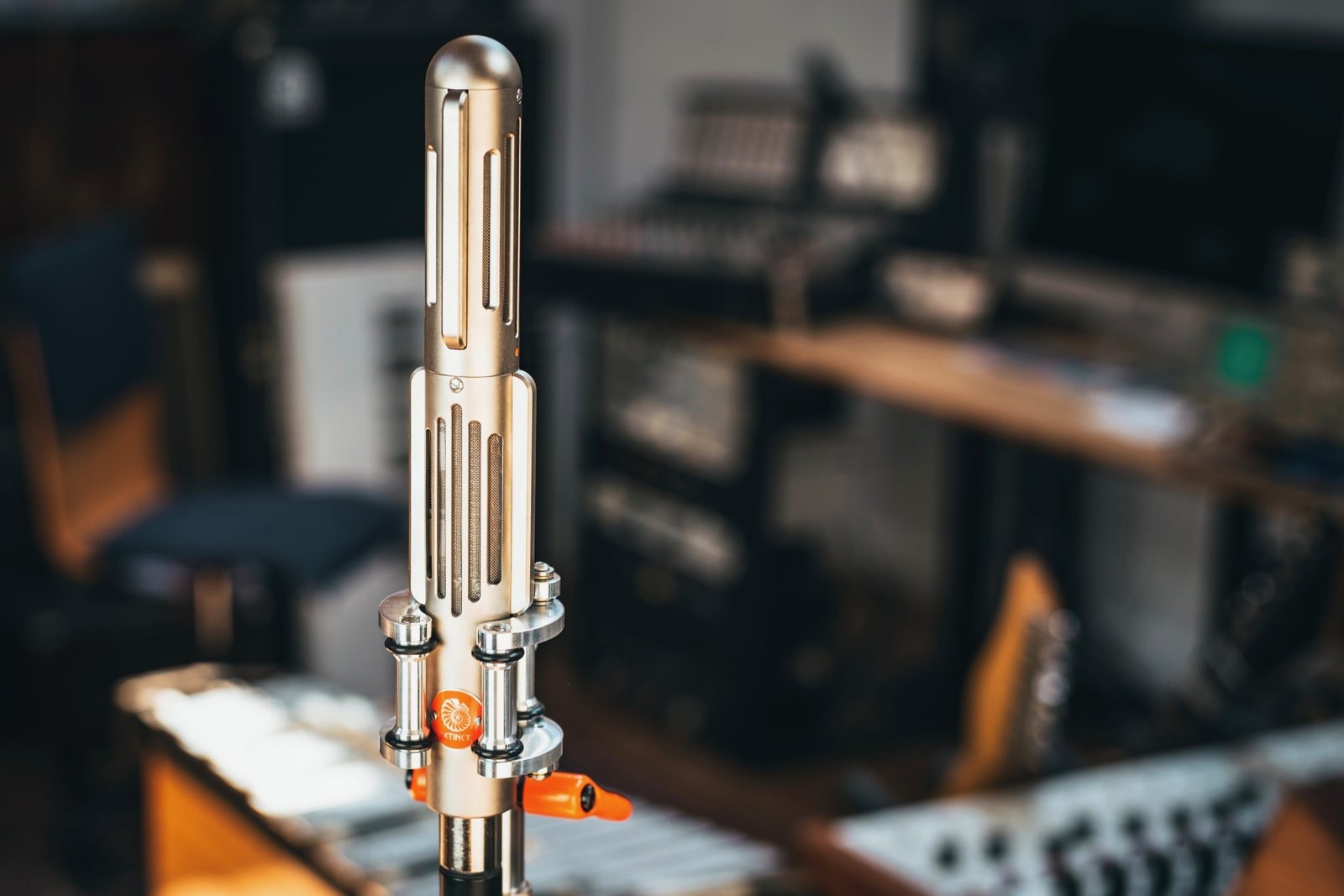 Set and Matched
The ribbon motors are tuned and matched for frequency response and output level, ensuring both channels sound identical. Each motor is tested in our acoustic booth prior to selection for a perfect stereo image.
The custom-wound permalloy core transformers are designed and made at our workshop to ensure high efficiency and low noise over the full sonic range.
Technical specs:
Output impedance = <300 ohms at 1KHz (per channel)
Directional Pattern: Blumlein pair
Transducer Element: 1.8 micrometer aluminum ribbon
Frequency range*: <30 Hz – 15 kHz @ ±3dB. (excludes proximity effect)
Maximum SPL: 135dB @ 20 Hz
Sensitivity: 2.23 mV/Pa, -53 dBv/Pa
Self noise (thermal): -130 dBV at 20ºC (20 kHz bandwidth)
Signal to noise (1kHz at 1 Pa): 81 dB.
Proximity effect: Strong
Electronics: Passive. No power required
Output configuration: Transformer balanced
Output Connector: XLR5 with stereo cable to breakout box and 2 x XLR3
Weight: 488g (microphone only)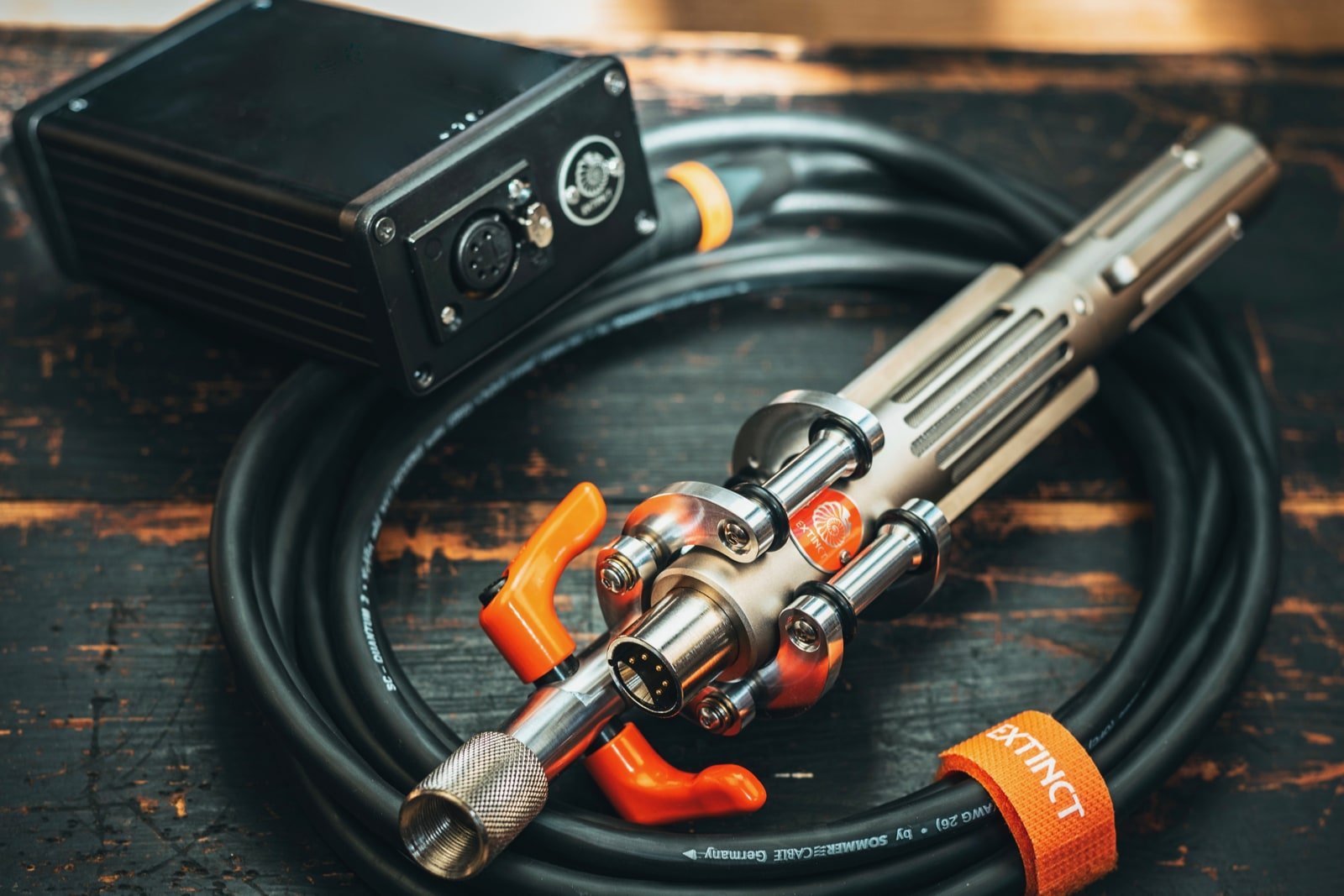 Valkyr is supplied with a stereo cable (4 metres), rugged stereo breakout box, Fenrir mount, and a tough carry case.
Mechanical parts carry a lifetime warranty to the original owner. Ribbons and cables are warrantied for 1 year from date of purchase, but with care should last many years.
All of our microphones are machined and built in Yorkshire, England.
"It's great to see a British manufacturer thriving and making products that are absolutely world-class"  Sound On Sound
In good company...
Extinct Audio users include…. John Williams, Dom Monks, Nick Cave, Lianne La Havas, Laura Marling, James Ford, Simian Mobile Disco;  James Knight, Knight Time Studios;  Justin Lockey (Editors/Minor Victories/Mastersystem); Nigel Pepper, engineer, Snow Patrol, UK; Foals,  Jason Lytle (Grandaddy); James Newman; Ray Lamontagne; Nils Frahm, Germany; Matthias Hahn, Berlin; Ethan Johns, J.J. Hastry, ICP Studios, Brussels; Konk Studios, London; Real World Studios, Bath; Neil Innes, ATA records, Leeds;  George Apsion, Kore Studios, London; Richard Thompson,  Johannes Buff, End Note Studios, France; Marcus Mumford, Douglas September, Canada; REP Music, Cambridge; Barkley McKay, Valley Wood Studio, Leeds; 80 Hertz Studios, Salford, UK; Iwan Jenkins, The Riot Point, Canada; Ali Chant, Playpen / Toybox, Bristol; Martin Mitchell, Instant Music, UK;  Dave Tilley, Bogue Sound Studios, NC; Jeff Ardron, St Austral Sound, UK; Sal Richichi, Las Vegas; Nicolas Masset, Belgium;  Don Gunn, The Office, USA; Maxwell Hallett, London;  Scott Evans, Antisleep Studios;  Gwyn Ap Harri, Doncaster; Emma Halpin, Ben Barker, The Haggis Horns, Leeds, UK;  Andrew Wilson, Red Six / Wounded Buffalo; Richard Horner, Black Snowflake Sound, Sapporo, Japan; Tim Rutten, Maastricht, Netherlands, Joe Clayton, No Studio, Manchester.; Misha Bittleston; Benjamin Lee, Eugene, OR, USA;  Nils Grondahl, Denmark; Louis San Antonio; Shawn Murphy, Los Angeles; Air Studios, UK; Dale Smith, Queensland, Australia; Jules Burns; Brendan Aanes; Daniel Inzani, UK; Douglas Doherty, DACS Audio; Pete Ord, Sunbeams Music Centre, Cumbria; Paul Kappa, Amazing Kappa Band; Dave Mallen, Innovation Station Music, Virginia; Robert Charles Wilks, Squarehead Studios, Kent, UK; Jérôme Cousin, L'Atelier du Microphone, Saint Thual, France; Jonny Hooker, Young Thugs Studios, York; Russell Pay, London; Joe Montague, UK; Marco Noble, Noble Sound Studios, Linsengericht, Germany; David Stych, UK; Hessischer Rundfunk, Germany. Rob van den Berg, Sonokinetic, Netherlands;