Berserker
The Berserker from Extinct Audio is a low noise ribbon microphone aimed at recording voices, but which can be used for pretty much anything. The sound is somewhat 1940s vintage in character but with modern output levels and extremely low noise for a passive ribbon microphone. The Berserker gives voices a larger-than-life sound, perfect for jazz queens and rock gods of all eras.
It has internal windscreens to reduce sibilance and pops and sounds most natural around 6 to 12 inches away from the sound source, which makes it perfect for vocals.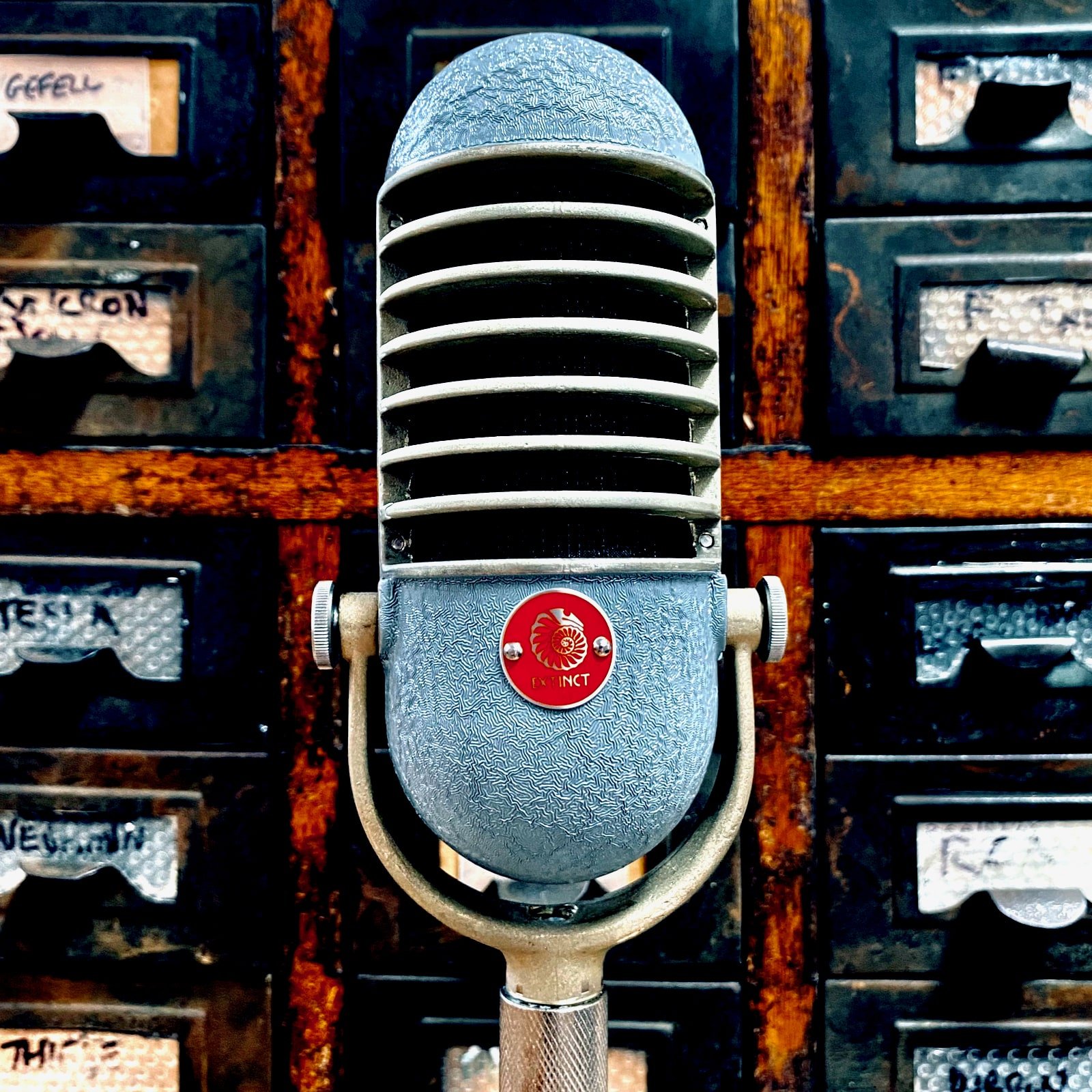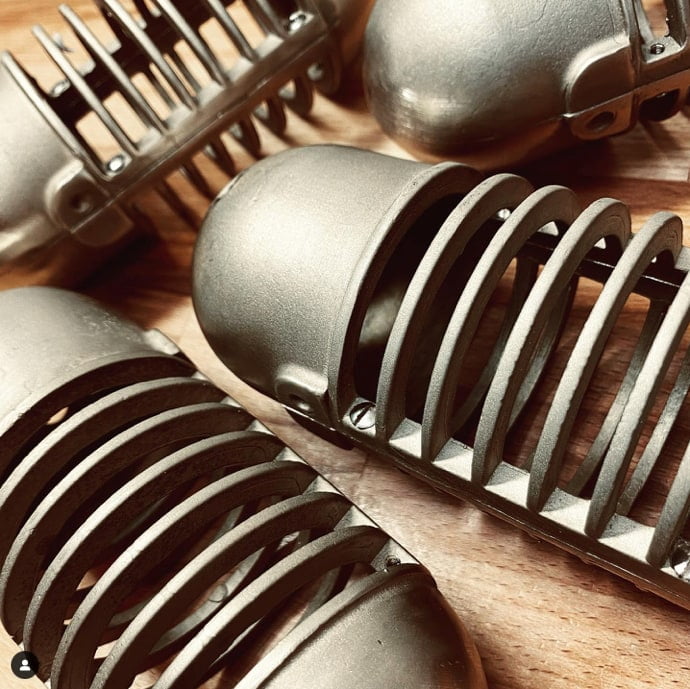 Cast recording
The Berserker's body and yoke are cast from solid brass using a traditional lost wax process. These bespoke parts were made in small batches in the south of England, and of course the rest of the microphone is made in our facility in York. We make these in very limited runs.
Crazy times
In old Norse legend, Berserkers were fearsome warriors who (maybe) wore bear skins and (allegedly) ate magic mushrooms or other hallucinogenic substances to sustain them in battle. Our Berserker is rather better behaved! The looks of the microphone are inspired by an obscure 1940s ribbon microphone made by Birmingham Sound Reproducers. BSR gave us the name BerSerkeR.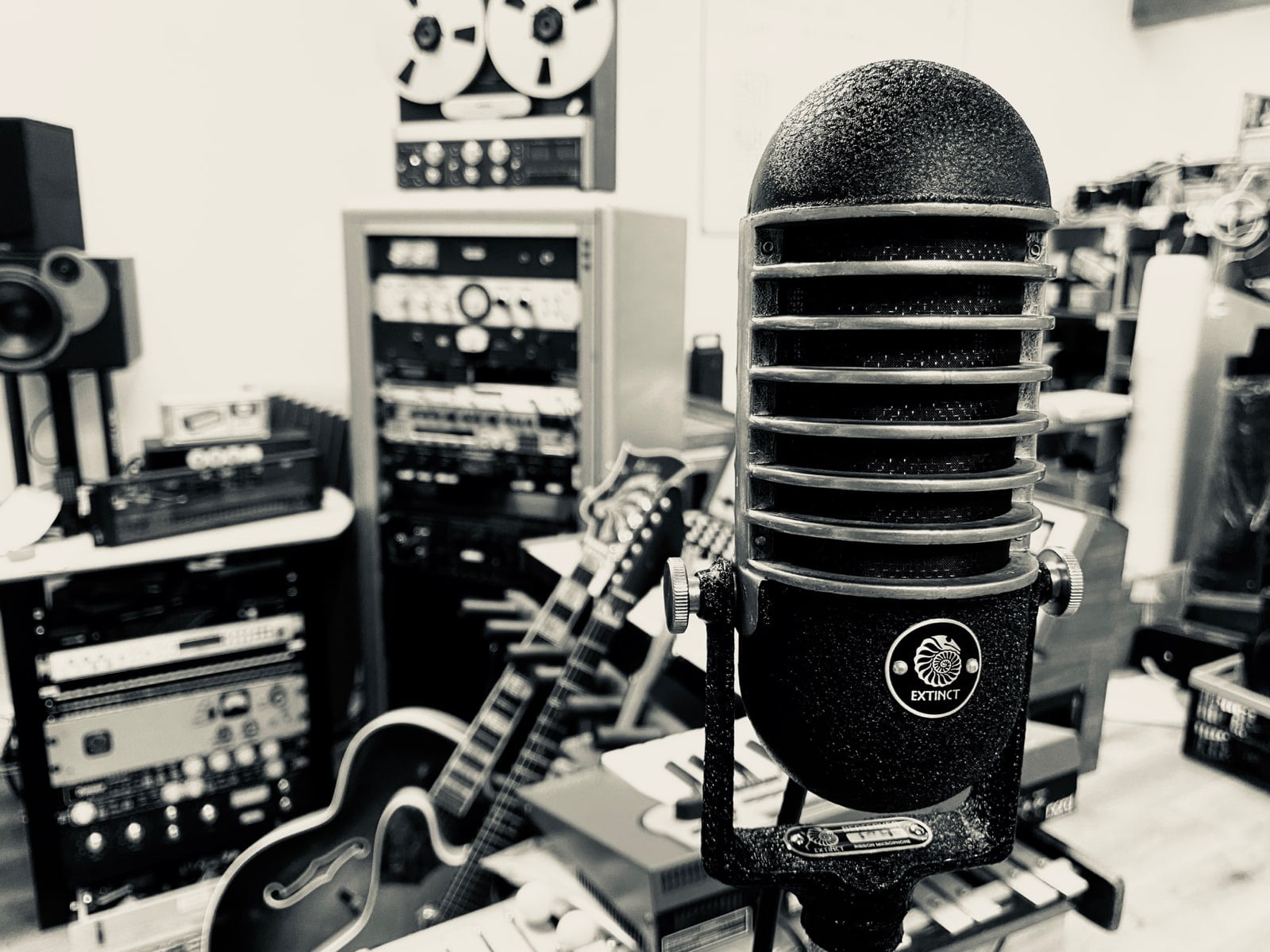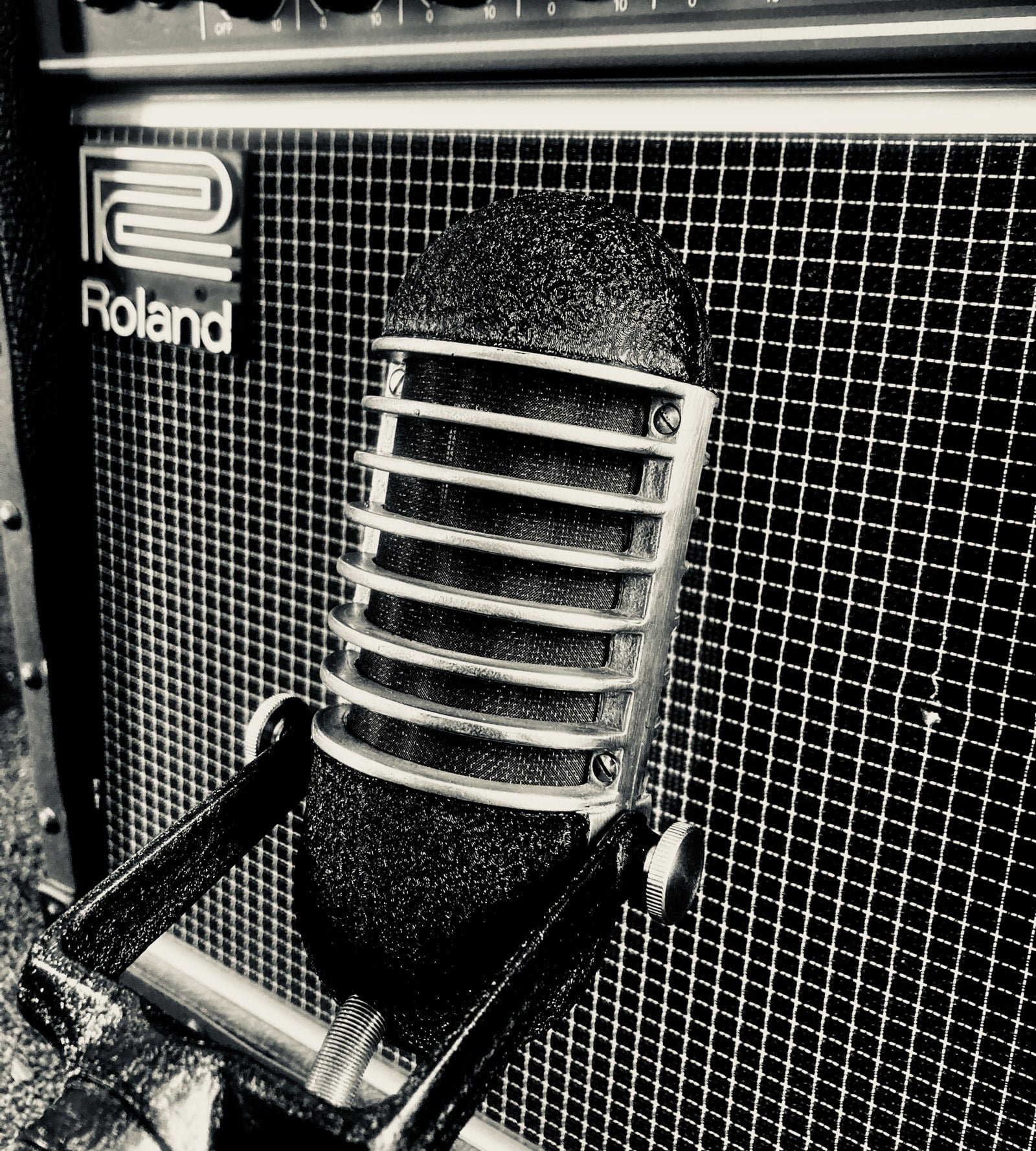 Technical specifications
Output impedance = 300 ohms at 1KHz
Directional Pattern: Offset figure-8.
Frequency range*: <30 Hz – 15 kHz @ ±3dB. (excludes proximity effect)
Sensitivity: -50 dBv/Pa
Self noise (thermal): -131 dBV at 20ºC (20 kHz bandwidth)
Signal to noise (1kHz at 1 Pa): 81 dB.
Proximity effect: Strong
Electronics: Passive. No power required
Output configuration: Transformer balanced
Output Connector: XLR3, Pin 2= +ve, Pin 3 = -ve, Pin 1 = Ground
Weight: 1200g approx (microphone only). 2000g with box.
Size: 220 x 90 x 60 mm approx. (microphone). 350 x 110 x 105 mm boxed.
Reviews
"The Berserker sounds absolutely wonderful on everything I've tried it on, male or female, softly spoken or angry screamers! It's gorgeous, thank you." Ross Orton
"I love my Berserker, it's one of the best sounding and smoothest mics for vocals I've used so far. Congrats on this one!" Christoph Brandner
"The Berserker, needs to be listened to in order to really grasp the beauty of it. So, it looks stunning in photos, it's even more awesome in person and when you listen to it you feel mesmerised. This is not an ad, this is just the opinion of a very happy customer of this (almost) one of a kind wonder. Thank you!" Simone Coen
"This thing (Berserker) is amazing. " Flat Black Studios
"Loving ours (Berserker), bit of a modern classic!" Ibibio Sound Machine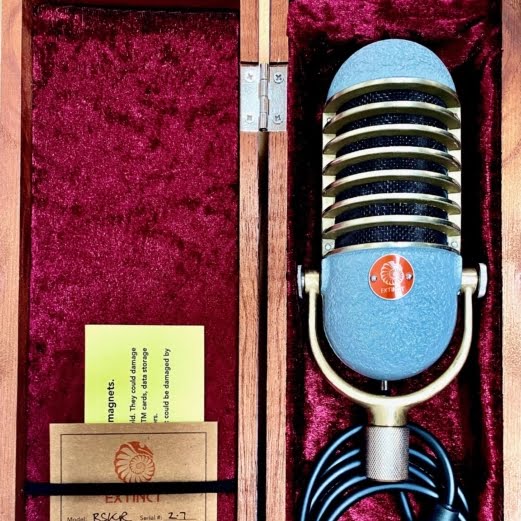 In good company...
Extinct Audio users include…. John Williams, Dom Monks, Nick Cave, Lianne La Havas, Laura Marling, James Ford, Simian Mobile Disco;  James Knight, Knight Time Studios;  Justin Lockey (Editors/Minor Victories/Mastersystem); Nigel Pepper, engineer, Snow Patrol, UK; Foals,  Jason Lytle (Grandaddy); James Newman; Ray Lamontagne; Nils Frahm, Germany; Matthias Hahn, Berlin; Ethan Johns, J.J. Hastry, ICP Studios, Brussels; Konk Studios, London; Real World Studios, Bath; Neil Innes, ATA records, Leeds;  George Apsion, Kore Studios, London; Richard Thompson,  Johannes Buff, End Note Studios, France; Marcus Mumford, Douglas September, Canada; REP Music, Cambridge; Barkley McKay, Valley Wood Studio, Leeds; 80 Hertz Studios, Salford, UK; Iwan Jenkins, The Riot Point, Canada; Ali Chant, Playpen / Toybox, Bristol; Martin Mitchell, Instant Music, UK;  Dave Tilley, Bogue Sound Studios, NC; Jeff Ardron, St Austral Sound, UK; Sal Richichi, Las Vegas; Nicolas Masset, Belgium;  Don Gunn, The Office, USA; Maxwell Hallett, London;  Scott Evans, Antisleep Studios;  Gwyn Ap Harri, Doncaster; Emma Halpin, Ben Barker, The Haggis Horns, Leeds, UK;  Andrew Wilson, Red Six / Wounded Buffalo; Richard Horner, Black Snowflake Sound, Sapporo, Japan; Tim Rutten, Maastricht, Netherlands, Joe Clayton, No Studio, Manchester.; Misha Bittleston; Benjamin Lee, Eugene, OR, USA;  Nils Grondahl, Denmark; Louis San Antonio; Shawn Murphy, Los Angeles; Air Studios, UK; Dale Smith, Queensland, Australia; Jules Burns; Brendan Aanes; Daniel Inzani, UK; Douglas Doherty, DACS Audio; Pete Ord, Sunbeams Music Centre, Cumbria; Paul Kappa, Amazing Kappa Band; Dave Mallen, Innovation Station Music, Virginia; Robert Charles Wilks, Squarehead Studios, Kent, UK; Jérôme Cousin, L'Atelier du Microphone, Saint Thual, France; Jonny Hooker, Young Thugs Studios, York; Russell Pay, London; Joe Montague, UK; Marco Noble, Noble Sound Studios, Linsengericht, Germany; David Stych, UK; Hessischer Rundfunk, Germany. Rob van den Berg, Sonokinetic, Netherlands; JB Pilon at Buffalo Recording Studio, Wakefield.