BoRbon Pocket Ribbon Microphone
A compact passive ribbon microphone with a warm, rich tone, strong output and excellent signal to noise performance.
British heritage. Made in York.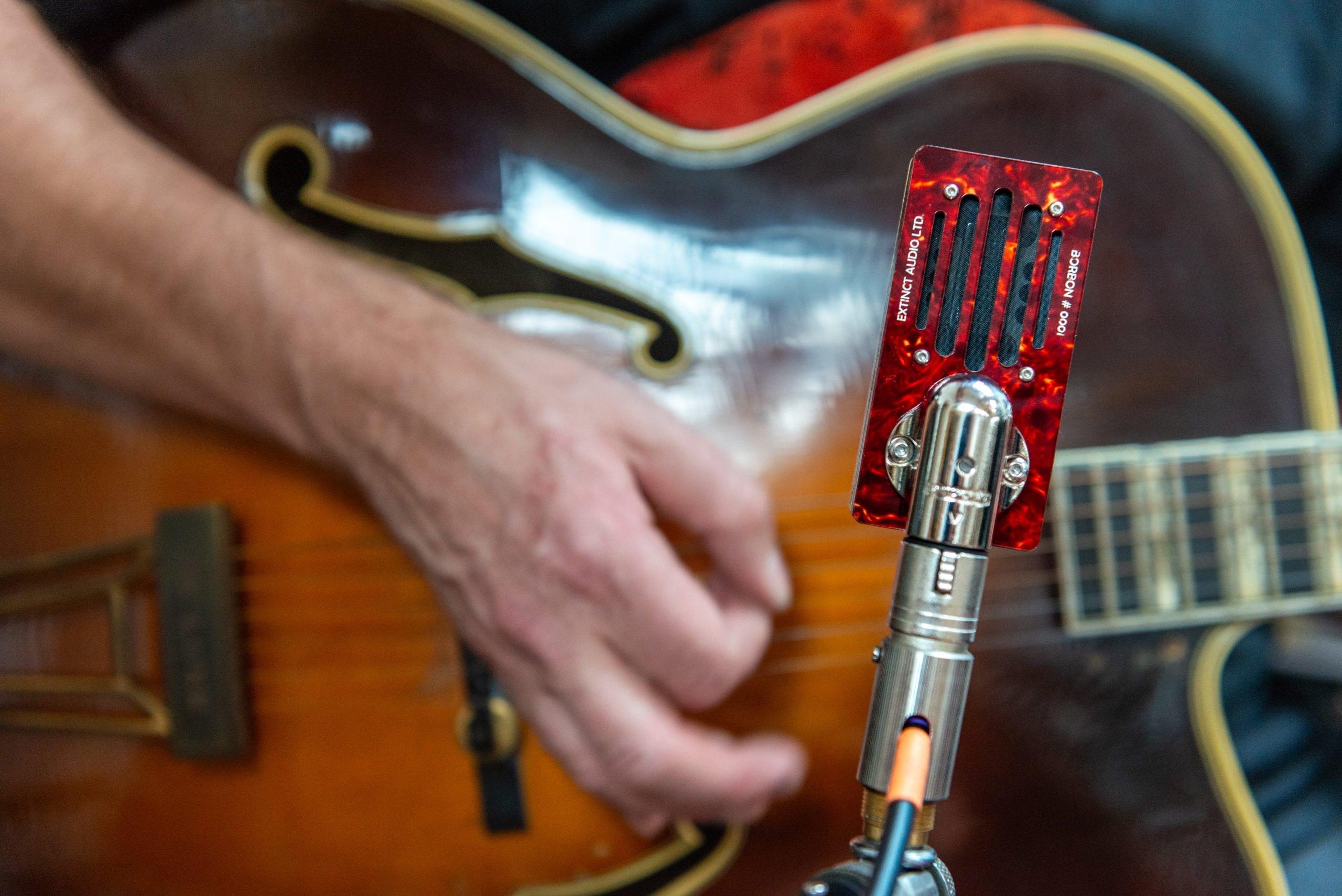 Short and Sweet
Many classic British ribbon microphones from the 1960s employed shorter, narrower ribbons than their American counterparts. The BoRbon microphone builds on this heritage and the advantages that a shorter ribbon can bring. These are incredibly light and easy to mount, either with a standard large spring clip or with one of our mount-a-mic adapters. And the short ribbon is less prone to handling noise than a longer ribbon: in most circumstances a suspension mount is not required.
Little mic, huge sound
The market today seems dominated by large format ribbon microhones inspired by the RCA 44BX, with ribbon dimensions of the order of 50mm x 5mm or thereabouts. Of course everyone loves the 44 big ribbon sound, but there are other ways to design a ribbon with a great tone. Those huge microphones were designed at a point when the only way to get a strong magnetic field was to use very large magnets. Magnet technology has evolved to an astonishing degree over the past few decades and so the bulk is not required. Moreover a shorter, narrower ribbon allows magnets to be positioned closer together which gives a very strong field in a tiny package, which compensates for the smaller transducer pickup area.
Small is beautiful
We have years of experience servicing classic British microphones and many of these, have medium sized ribbons around 25mm x 2.5mm, give or take a little. These include most of the Reslosound models, the Grampian GR1, Film Industries M8 and the Lustraphone VR63. Whilst these are less well known than the RCA microphones, these smaller models are very popular with our customers. Our experience has inspired us to build a microphone with the output level of 44, but at 5 percent of the weight and a fraction of the size.
The BoRbon sounds astonishingly huge for its size, with a big proximity effect. It sounds like a big vintage microphone.
Technical Specs
250 ohms at 1 kHz.
Initial Reviews
"I had the pleasure of testing out these little beauties recently from @extinctaudio. If you have ever had a conversation with me about what mic to buy I always recommend their BM9. On a recent visit to collect my freshly, un-dented RCA 77, I was shown their new prototype ribbon mic. It fit in the palm of my hand! There was something so intriguing about it. So on went the headphones and I had a listen. I was really blown away by how good it sounded. At the same time we listened to a few pretty classic ribbon mics that I was interested in hearing. I couldn't quite believe that this little ribbon was coming out on top! So, I took a pair back to ATA to do some recording. They are amazing. Clear, well rounded and with the right smattering of character. Big bonus is they are light and easy to place/use. All the people I've played the snippets to have unanimously gone, "how much? I'll take one". Neil Innes, ATA records
In good company...
Extinct Audio users include…. John Williams, Dom Monks, Nick Cave, Lianne La Havas, Laura Marling, James Ford, Simian Mobile Disco;  James Knight, Knight Time Studios;  Justin Lockey (Editors/Minor Victories/Mastersystem); Nigel Pepper, engineer, Snow Patrol, UK; Foals,  Jason Lytle (Grandaddy); James Newman; Ray Lamontagne; Nils Frahm, Germany; Matthias Hahn, Berlin; Ethan Johns, J.J. Hastry, ICP Studios, Brussels; Konk Studios, London; Real World Studios, Bath; Neil Innes, ATA records, Leeds;  George Apsion, Kore Studios, London; Richard Thompson,  Johannes Buff, End Note Studios, France; Marcus Mumford, Douglas September, Canada; REP Music, Cambridge; Barkley McKay, Valley Wood Studio, Leeds; 80 Hertz Studios, Salford, UK; Iwan Jenkins, The Riot Point, Canada; Ali Chant, Playpen / Toybox, Bristol; Martin Mitchell, Instant Music, UK;  Dave Tilley, Bogue Sound Studios, NC; Jeff Ardron, St Austral Sound, UK; Sal Richichi, Las Vegas; Nicolas Masset, Belgium;  Don Gunn, The Office, USA; Maxwell Hallett, London;  Scott Evans, Antisleep Studios;  Gwyn Ap Harri, Doncaster; Emma Halpin, Ben Barker, The Haggis Horns, Leeds, UK;  Andrew Wilson, Red Six / Wounded Buffalo; Richard Horner, Black Snowflake Sound, Sapporo, Japan; Tim Rutten, Maastricht, Netherlands, Joe Clayton, No Studio, Manchester.; Misha Bittleston; Benjamin Lee, Eugene, OR, USA;  Nils Grondahl, Denmark; Louis San Antonio; Shawn Murphy, Los Angeles; Air Studios, UK; Dale Smith, Queensland, Australia; Jules Burns; Brendan Aanes; Daniel Inzani, UK; Douglas Doherty, DACS Audio; Pete Ord, Sunbeams Music Centre, Cumbria; Paul Kappa, Amazing Kappa Band; Dave Mallen, Innovation Station Music, Virginia; Robert Charles Wilks, Squarehead Studios, Kent, UK; Jérôme Cousin, L'Atelier du Microphone, Saint Thual, France; Jonny Hooker, Young Thugs Studios, York; Russell Pay, London; Joe Montague, UK; Marco Noble, Noble Sound Studios, Linsengericht, Germany; David Stych, UK; Hessischer Rundfunk, Germany. Rob van den Berg, Sonokinetic, Netherlands; JB Pilon at Buffalo Recording Studio, Wakefield.