The first thousand are difficult, then it becomes easy!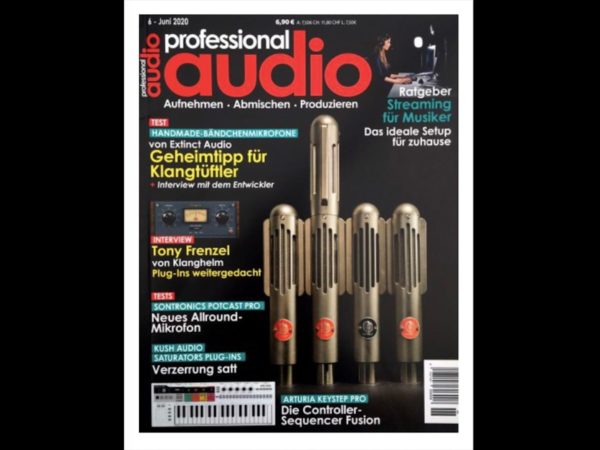 The first thousand are difficult, then it becomes easy!
Ribbon specialist Stewart Tavener is the brain behind the microphone manufacturer Extinct Audio and operates a platform for microphone repairs with his website Xaudia.com. There he also offers freshly restored "microphone delicacies" from the last century for sale. Whether French, Italian, Japanese or American ribbon microphones – his shop is full of curiosities. There is hardly anyone in the world who has more experience with all the different models than Stewart Tavener.
?Hi Stewart, thanks for taking the time to do the interview. Can you tell us something about your background? How did your passion start?
Hi Raphael, the pleasure is mine. I started making music in the 80s. I play guitar myself and have always been interested in recording technology. When I was 14 years old, I bought an old Reslo ribbon microphone and stand for around ten pounds. That was my first mic – there was no end of noise, but I didn't care because it just sounded good. In addition, it was older than me and and I love old things (laughs). Then one day, when I was at university, the microphone stopped working and I decided to fix it myself. That was my first ribbon repair, so to speak. Had this microphone not given up, maybe everything would have turned out differently. After my training in "physical chemistry", I initially had an academic job at the university in the field of magnetic resonance spectroscopy.
? Magnets seemed to attract you magically …
Yes! (laughs) I wasn't very happy because my dream was to open a recording studio one day. Finally I gave it a try and gave up my "day job". In the studio it became clear that I have a talent for tracking down old equipment and bringing it back up to speed. For many years I have taught myself how to repair ribbon microphones and since there was hardly anyone in Europe who offered this service, I launched Xaudia.com in 2007. The first orders came in within a month, a year later I was completely booked out and it hasn't let up since then. I think people will always break things (laughs) and as a "repair guy" you always have something to do. In the meantime, I no longer make commercial sound recordings, but concentrate entirely on the repairs and on Extinct Audio. With my bands I was always on the verge of becoming famous – "chasing the dream" so to speak. Now I'm trying to help other people realise their dream.
? How many microphones have you had on your workbench over the years?
With around 500 microphones a year, that should have been around 6000 microphones so far. Before founding Extinct Audio, I also invested a lot of time in my blog on Xaudia.com and reported on unusual models.
? What were your fancy ribbon mics?

We get a lot of old and very crazy mics from Italy, from Meazzi for example, but most of them are not particularly good in sound, but rather "special" in terms of sound. I myself have a fancy ribbon microphone from Siemens from the 1920s, the ELA M25, one of the heaviest microphones in my collection.
? Oh yes, I once borrowed this Siemens for an album production at Echoschall and used it on the guitar amp. Very interesting thing …
You know that? Then it's not as exotic as I thought (laughs). There are different stories where the first ribbon microphone came from. One theory is that the Siemens is the first ribbon microphone. The Americans would also like to claim that for themselves … I also have an old PB90, a forerunner of the RCA 44 A. Over the years, there has been a pretty good collection, it will be around 200 ribbon microphones. I'm fixing it because I love it. Unfortunately, I only record a few sessions a year and hardly have the opportunity to use them myself.
? You can't learn deeper knowledge about ribbon mics at any university – was it all "learning by doing"?
Yes, there are no teachers for that. Unless you work directly with Royer or AEA, but then you only know your own models. You have to build up your knowledge slowly using the 'trial and error' principle. When people ask me whether it is difficult, I answer, "the first thousand are difficult, then it becomes easy". Some time ago I also took part in a training course at AEA in the USA, as I am now the official service partner for AEA micros in Europe.
? You mentioned the Reslo ribbon at the beginning. Before Extinct Audio, the Reslo Beeb was something like your trademark.
These mics were widely used in England, but had a very bad reputation because they had too low an impedance and the associated weak output. The ribbon was also often in a desolate condition. The BBC once published plans to improve the Reslo's to make them suitable for broadcasting. I based the Beeb on these recommendations. I had to swap the transformers and buy a winding machine and learn how to make transformers. That was an important step forward – also with regard to Extinct Audio. At first I thought I might sell ten Reslo Beebs. Matthias Hahn, who has meanwhile taken over our sales in Germany, was so enthusiastic at the time that he bought all ten of the first series. In the meantime we have restored almost 500 Reslo Beebs. Unfortunately, it's hardly worth it today, as used prices have skyrocketed in recent years. At the beginning of Xaudia you could still find them for 30 pounds each, now a used Reslo in bad condition costs 200 pounds. But we have a few alternatives in mind that we will also convert and upgrade. I don't want to reveal which models are involved yet, otherwise the prices will go up again … (laughs)
? What was the trigger for you to set up your own brand and sell your own microphones?
The need for it has slowly but surely grown over the years. I have never been able to bring my own microphones to production because I simply didn't have the time. When my friend Adam Watson was looking for a new job three years ago, we chatted and I asked him to build something with me. We said to each other, let's just give it a try – and that was the beginning of Extinct Audio. The starting point for our first prototype was the Bang and Olufsen BM3, but over time we have changed everything about it and created a completely new microphone with our BM9. I didn't want to build a microphone that costs several thousand euros. It was important to me that a normal recording studio and also a lot of people who work at home could afford our mics. They are supposed to be workhorses that one likes to use on a daily basis.
? How many employees are you at Extinct Audio?
We are between two and a half and three people (laughs). Next to me, Adam, who is also the managing director, works in manufacturing. Then there is Anthony Pearson who takes care of the internet and my wife Jane helps where she can. Because of the Corona crisis, we divide our working hours so that we are never at the company together. I work in the morning and Adam works in the afternoon.
? How are you as a small manufacturer doing in this crisis?
It is a difficult situation, but we are all healthy here and that is the most important thing. It's terrible for the music industry. The studios are closed, bands cannot work and do any gigs. Demand is weaker than usual, but we won't see how it actually works for a few months. We benefit from the fact that we work with local suppliers for almost all parts. The company that takes on the metal processing for us and makes the bodies and the shaft, for example, is only 50 kilometres away. However, equipment for ventilators is currently being manufactured there. We manufacture the remaining parts ourselves. That means we wind the transformers, cut and place the ribbons, assemble the microphones and tune and calibrate each and every one of them. The label "Made in Yorkshire" was important to me. Our wooden box comes from the north of England from a company that actually makes presentation boxes for whiskey and wine.
? The design of your microphones stands out pleasantly from the competition. Today, many microphones and their accessories are very like one another.
Yes, I notice that too. You see the same wooden boxes, microphone baskets, suspension mounts, all officially from different manufacturers, but somehow from the same company. Some then say "Made in USA" on it, but the inside is the same as with cheap microphones from large music house chains.
? Is the Fenrir suspension mount your own creation too?
Yes. We wanted a 100 percent reliable suspension mount. How this came about was a bit strange, because normally you make drawings before you make something, but with the Fenrir I also proceeded according to "trial and error". I started building them with the parts I had available here. When it was finished, I went to Adam and said "now can you please draw that" (laughs). The prototype was finished before the first sketch was made. I just work faster when I have something in my hand instead of drawing something on the computer. When you touch something you literally understand it better than when you just see it on the screen.
? Are there already some well-known customers for your Extinct Audio microphones?
Yes, and one thing makes me incredibly proud. Until last week I had no idea that John Williams used our mics for the nee J.J. Abram's Star Wars movie. A customer made us aware of this. In a making-of video you can see four Extinct Audio BM9 that were placed above the orchestra. John Williams is one of the greatest film composers, and the producers neither compromise on sound or budget. They can afford every microphone available on the market. I am delighted that they chose our Extinct Audio mics. Having created something that meets the highest standards somehow gives me the feeling that my mission has actually been fulfilled (laughs). Peter Gabriel's Real World Studios have also bought some of our mics and many customers who record there buy one of our mics afterwards.
? Nils Frahm also appears in your customer list …
Yes, I've done a lot of repairs for Nils. One day when he was giving a concert around here, he invited me to come over. I didn't meet him personally, but the concert was great.
? How did the Black Ops come about?
One of our customers, Nigel Pepper, is a sound engineer with Snow Patrol and had requested mics for the concert tour. As a result, we designed a completely new microphone for him with a thicker windbreak, a thicker ribbon to make it more resistant and with a special transformer that minimises the proximity effect. This enabled the microphones to be used very close to the amps. All mics survived the tour unscathed and his team was so enthusiastic that they bought even more mics to use on tour with the band Foals.
But we also have very good feedback for the Black Ops when it comes to voice and voice recording, as it offers a good balance at close range.
? What are your personal microphone favourites?
For the dynamic microphones, my "Desert Island microphone" would be the Electro-Voice RE-20. I have a few of them here and in a stressful session you can use this mic with a clear conscience for everything, be it vocals, bass, drums … They can take a lot and never sound bad – I love these things. When it comes to capacitor mics, I prefer a darker sound and I really like the Sony C38. The noise may be higher than with modern microphones, but it sounds "right" to me. Since I spend a lot of time with ribbon mics, condenser mics tend to sound "wrong" to me. My personal favourite among the ribbons is the RCA KU3. It is lined with special cow hair, has a cardioid polar pattern and it has the white stripe on the back. They were often used on movie sets in California and were installed on huge booms at the time. The boom operator always had to align the white stripe with the person who was speaking. So today you can see exactly which microphone was in use on the film set.
? Why ribbon mics particularly?
I have loved small ribbons since I was young and find them fascinating again and again – the technology behind them is so simple and yet there are the finest details that make the difference. If you bring in time and knowledge, you can optimise a lot. I would be tempted to write a book one day and summarise the knowledge …
More info:  www.extinctaudio.co.uk   www.xaudia.com
July 26, 2021